Career Coaching & Career Advice Blog
The articles you need to create
a successful and fulfilling career journey. 
Book Recommendation: The Brazen Careerist by Penelope Trunk
I have had the fortune to be acquainted with Penelope Trunk, aka the Brazen Careerist, business advice / career columnist for the Boston Globe, for some time now. Penelope has always impressed me with her insightfulness and fresh, no-nonsense, practical ideas about managing careers and work.
So, I was delighted to receive from her publisher Warner Books a copy of her new book, Brazen Careerist: The New Rules for Success. Simply put, it is a really good read, and a valuable addition to increasing your career intelligence quotient.
I may call up one or two of her ideas for further discussion in later posts. What I really like though, is that she captures in 45 short sections new ideas about the changing rules of success. That the corporate ladder climb isn't as relevant as it used to be. That the pursuit of experience and skills and professional / personal development is what drives today's younger workers. That taking detours and resume gaps aren't a bad thing.
Reader Warning:I think Penelope and I get along because we see eye-to-eye on a lot of issues. Sections like "There Are No Bad Bosses, Only Whiny Employees" or "Blame Yourself First" rest squarely in the camp of personality responsibility and choice. If that kind of medicine doesn't sit well, then maybe Penelope's approach isn't for you.
For everyone else, if you are hungry for some practical tips and wisdom on managing and developing your career, I highly recommend you pick up a copy of the Brazen Careerist: The New Rules for Success.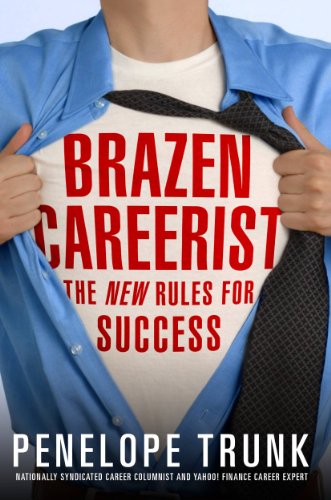 Brazen Careerist: The New Rules for Success
By Penelope Trunk
Get a weekly dose of actionable career advice, insights, and resources to keep the business of YOU on track.
- from the desk of Ian Christie

CEO & Executive Career Coach