Career Coaching & Career Advice Blog
The articles you need to create
a successful and fulfilling career journey. 
Loosen-up! How to Write an Engaging LinkedIn Post
Engagement is Key
There's a sea-change occurring on LinkedIn and if you've been active in the last months, you've already noticed it. Activity is becoming more social, more personal and less "buttoned-down." If you want traction, you need to loosen-up. Let's walk through the reasoning and ideas on how to become more engaging on LinkedIn. Don't get me wrong. LinkedIn is a business platform. What's happening though is as a result of (1) feature additions / changes, (2) the way the LinkedIn traffic algorithm works and (3) most importantly what kinds of content current LinkedIn users are responding to, is that increasingly LinkedIn is providing more traffic/exposure to content that gets engagement (time spent, likes and comments) and vice versa. And what gets engagement are posts that are less formal, less thought leadership and more personal updates, stories and provocative posts. There's no point fighting it. I'm working on shifting my approach, and it works. If you want to get more traction on LinkedIn, and you should, then you need to find a style that engages with your audience.
Here's the basics
1. Posts and Articles help you keep in touch with your network, establish your professional identity, build reputation, and if your content creates a conversation, even attract new people to your network.
2. You have a reputation score in LinkedIn's algorithm based on how much people engage with your content. If you haven't been posting, your score is very low. If you were to post something today, it might reach 5% of your connections & followers.
3. If you can post (and market) content that gets engagement, LinkedIn will distribute that same piece of content to more people. More engagement, more distribution. And your reputation score will increase so that next time you post, you start a little higher.
4. In order to get Engagement, the following things need to happen:
People who see your update need to (1) pause during their feed scrolling, (2) click the "see more" button if you have more than 3 lines of text and (3) spend time on your content. Each of these counts.

Like your post/article. Likes are an additional signal to LinkedIn that you are interesting.

Hopefully have a conversation via Comments. Comments are an even stronger signal to LinkedIn that what you have to say is engaging and of value to the network. Ideally, there's a conversation back and forth, which in LinkedIn's eyes, is the ultimate engagement.
5. Which means that you need to figure out how to be more engaging. On the one hand, you want and need to be consistent with your professional identity. And possibly with your employer or organization, although that's a post for another day. On the other hand, your post needs to be a bit more personal and/or conversation-worthy. 6. Experiment: Here's a small example from September. I was speaking on leveraging LinkedIn and Social Media for Career & Professional Success and I posted this the night before the event. It's not brilliant. It does show you one style that can work. I took a professional event and added a personal spin (how to create the most energy to perform for the event).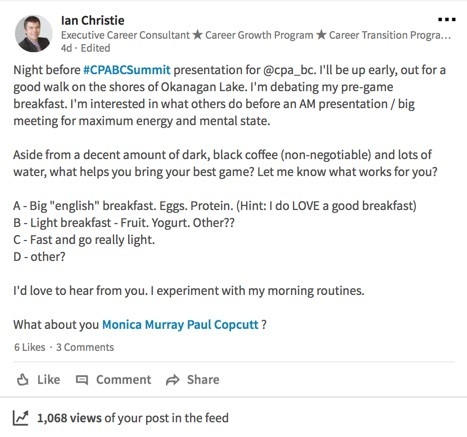 When I first posted, LinkedIn distributed it to about 220 people. If there had been zero engagement, nobody else would have seen it. What happened is that over the next few days, each Like and Comment (including my personal responses to comments) released more distribution with it being 1068 this morning (and if there's more likes / comments, it will keep going).
7. Specific ways you can loosen-up and be more engaging: To illustrate the point, give you a live example, and provide some more specific ideas on how you can write more engaging posts, I have continued this article in a Post on LinkedIn. I'm hoping to crowd-source some good ideas.
Action Item: What I'd like you to do is visit the post, click See More, read, and if you feel that it's worthy, Like and/or Comment. I'll respond to Comments. (Note: If were not connected on Linked, you can Follow Me there or send a connection request and introduce yourself as a newsletter subscriber!).
Get a weekly dose of actionable career advice, insights, and resources to keep the business of YOU on track.
- from the desk of Ian Christie

CEO & Executive Career Coach